copyright 2001 L.Osborne
This is a picture of a red haired Rose Faerie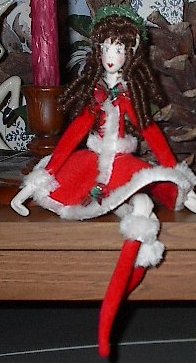 This Lovely Lady is my Christmas Faerie. You Can pick hair and eye color. Remember, each one is "One of a kind"
copyright 2001 L.Osborne
copyright 2001 L.Osborne
Sept. 11th 2001 was and is forever imprinted in our minds. God Bless all the victims, their families and the brave people who worked to help them all! These Tiny American Angels are a way of expressing ourselves about God and our Country, the wonderful U.S.A. I believe everyone needs a Tiny American Angel!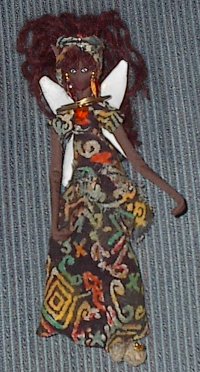 A beautiful Ethnic Faerie, she is a speciality doll because of the jewelery and fabrics. Her price is $25.00 plus $5.00 S&H. You may pick her skin color, hair color and eye color. Remember each one is "One of a kind". Let me know what colors you want in her fabric.
copyright 2001
On all orders you may choose your colors of skin tones (white, ethnic, includes light, med or dark shades). Color of fabric or flowers if they are available to me, sometimes they are out of season. Hair color, (blonde, brown, black, red). Ethnic hair, all I have is dark brown. Eye color, any color you like.
Type of payment is Money order or cash. Your doll will be sent to you immediately after I have received payment in full. Please allow 4-6 weeks for delivery.