copyright 2001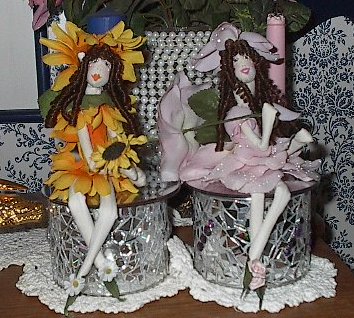 Sunflower & Rose Faeries
The Faeries are all made by me, L.Osborne. I designed my own pattern for them. They are 9 to 9 1/2 inches tall and each one is crafted out of fabric. Their clothes are made out of fabric or silk flowers. Each one is "1 of a kind." You just tell me what you want, hair color (brown, black ,blonde, red), eye color (brown,black,blue,green,or purple) and skin color (white or ethnic). Then the magic happens!! I go into my workroom and your darling little faerie practically creates herself. She has her own look, her own personality and her own magic about her! I will send you a picture of her and if you just love her, she will be yours as soon as I recieve the $25.00 plus $5.00 S&H (USA only). Shipping will be higher in other countries. Please email me about rates.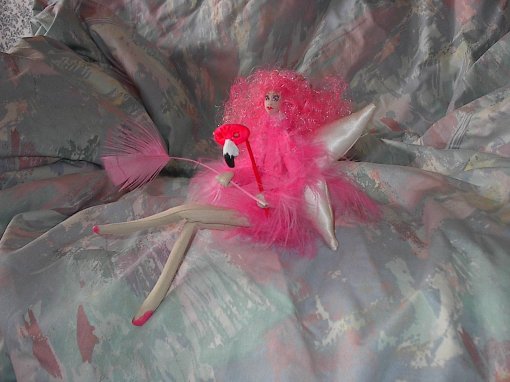 copyright 2002 L.Osborne
This lovely Faerie is "Fanny Flamingo Faerie." She was purchased by her namesake Fanny, of "Fanny's Flamingo Forum" on Delphi. If collecting Flamingo's is your desire, then let me design you, your very own "Flamingo Faerie" for $25.00 plus $5.00 S&H. Money orders only. Outside USA will be higher. E-mail me at:
faerieangel1@yahoo.com
copyright 2001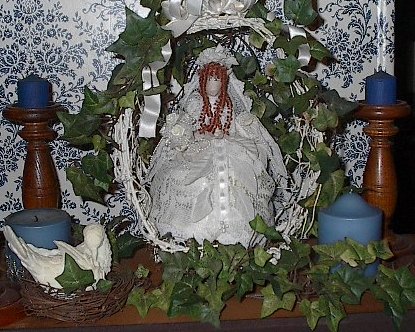 A Faerie Bride I made for my daughter Lindsay's wedding.
No two dolls will look alike or be alike each one is "One of a kind."